About us
At Steel Supplies Ltd in Doncaster we offer expert advice, unrivalled customer service and extensive stock of quality steel and wrought iron. Contact us to find out how we can help you.
With over 50 years' experience in the steel industry, be sure make steel supplies your first choice in mild steel supply. Our fully trained and enthusiastic staff have a determination to make your customer experience one that will make you not only come back for more, but recommend Steel Supplies Ltd to your business associates.
Our biggest asset is our professional sales team, always on hand to provide a quote, take an order or deal with any problems.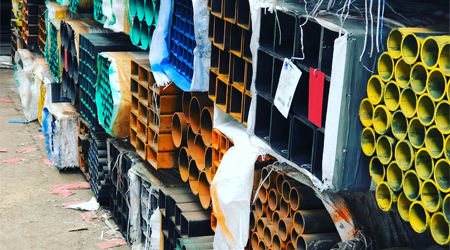 Services Steel Supplies Ltd Provide
How can Steel Supplies Ltd of Doncaster help your business?
We carry extensive stocks, on-site in Doncaster in the following ranges:
Universal Beams, Black Flats, Universal Columns, Light Sections, Channels, Hollow Sections/Tube, Equal/Unequal Angles, Sheet and Plate, Black Rounds and squares, Mesh and much more.
We recently invested in state-of-the-art cutting equipment for a quality finish.
Our cutting services include: Cold Sawing to length, Mitre Cutting, Plate/Sheet Shearing, Shot-blasting and Painting and Plate Profiling.
No job is too big or too small
Whether you're a DIY enthusiast or you represent a multi-national engineering group we value your custom by providing the service you require.
Wrought Iron
We are able to supply thousands of wrought iron components. Many of the more popular items are held in stock while others can be delivered within a few working days.
Extensive stock and next day delivery
We keep an extensive stock of products in-house complimented by a next day delivery promise on all orders placed before 3pm the previous day.
Top quality steel at affordable prices
At Steel Supplies Ltd of Doncaster we have strong purchasing power enabling us to bulk buy at low cost and provide our clients with competitive prices.
Buyers of surplus steel.
To find out more get in touch with Gary our purchaser of surplus steel. Email: [email protected] Call: 01282 678137
Steel Supplies Ltd's Made Interview
Introduction to Steel Supplies Ltd
"Thanks again for the business, you always make it an easy transaction as I do like an easy life"

- Ian F.Smith. Buyer. -
"Well yes I would have come in for a cuppa, but I parked up around the back of the warehouse and before I knew it your boys had loaded me up and I was on my way!"

- Gareth.W. Steel Buyer -